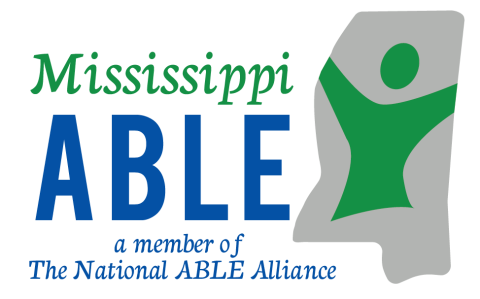 The official site of the Mississippi ABLE Program
Administered by the Mississippi ABLE Board and the Mississippi Department of Rehabilitation Services

SIGN UP FOR AN ACCOUNT NOW​​
Click here to Register online
(Click here for printable registration form)
(888) 609-3469
What is an ABLE account?
ABLE accounts are savings accounts for individuals with disabilities which will not affect their public benefits. These accounts can be used for daily transactions and/or long-term savings. Income earned in the accounts is not taxed if spent on qualified disability-related expenses. Contributions can be made to an account by anyone and may qualify for a state tax deduction. Click here for a Step by Step guide to enrollment.
When will ABLE accounts be available in Mississippi?
ABLE accounts are available now.
Click here to register online and learn more about opening an ABLE account.
(Click here for printable form - PDF)
Important Links​
Mississippi ABLE Program Facts and FAQs​​ (PDF)​​​
- (Click Here for Plain Text)
- Click here for FAQ - COVID 19
Mississippi ABLE Member Plan Addendum
Mississippi ABLE Program status report (PDF)
- (Click Here for Plain Text)

Annual Reports
2022
2021
2020
2019
​
​​​ABLE Board Members
Click to view the current ABLE board members
- (Click Here for Plain Text)
Other Resources
SaveWithABLE.com
ABLE Today
National ABLE Alliance
Ascensus ABLE
Fifth Third Bank
ABLE National Resource Center
Miss. Code Ann. § 43-28-1
National Association of State Treasurers (including links to Federal regulations)
• Click here for Printable Materials
• Click here for ABLE videos

To request a training on Mississippi ABLE for your group or organization, please email MSABLEINFO@mdrs.ms.gov or call 601-853-5240.